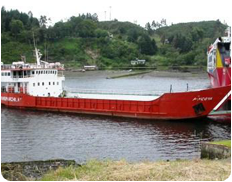 For those who come to Chile seeking adventure, traveling the rugged unpaved road known as the Carretera Austral (or Camino Austral) that winds its way for a thousand kilometers through the remote and thinly-populated part of Chilean Patagonia south of Puerto Montt is almost guaranteed to be an unforgettable experience.
This is a primordial realm, a territory where the forces of nature remain largely unconquered. It is a region that is largely covered by a lush, dense virgin temperate rainforest, characterized by a wealth of amazing flora unique to this part of the world and also an intriguing diversity of wildlife inhabiting the area as well. Deep fjords cut into the coastline from the Pacific and rocky Andean peaks rise up from the shore. In these latitudes there is no dry season, and for eons the waves of storms rolling in from the sea have dumped layer after layer of snow on the mountains, which over time has compacted to create and sustain the glaciers, which in turn feed a multitude of rushing rivers that constantly churn their way down the mountainsides and through the forests back into the fjords.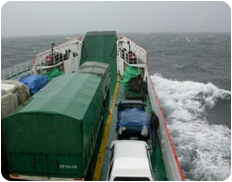 Much of the region was inaccessible before the Chilean government recognized the strategic and economic importance of constructing a land route through the wilderness to connect the various settlements located below Puerto Montt and north of the ice fields of the Campo de Hielo Sur. Before the project was started, these distant towns and villages had to rely on ferry service for their links to the rest of Chile, and even today it is not possible to drive south from Puerto Montt on this route without making at least one ferry connection or detouring through Argentina.
Coyhaique is the only city of any size in the region with approximately 40,000 residents. The rest of the settlements are best classified as towns, villages, or even hamlets. Most of these are of relatively recent origin and usually consist of a few basic wooden houses, some which offer accommodations and some that do not, at least not formally, but the present emphasis in the region is definitely moving in the direction of developing a greater tourist infrastructure. This relative lack of sizable population centers enhances the frontier-like atmosphere which characterizes this part of Chile, and this adds to the appeal it has for adventure travelers of all types.
---
A description of the road
Some accounts (such as the Footprint Chile Handbook) have divided the Carretera into three individual sections, which roughly coincide with the different stages of its construction. Interestingly, the initial section to have been built was not the northernmost part, the hyphenated series of ferry-connected road that departs from Puerto Montt in a southward direction, but was the central stretch that runs from Coyhaique to Chaitén. Construction of this part of the road was started in 1976 and was opened in 1983. Then five years later the northern section that links Chaitén with Puerto Montt as well as the southern section running from Coyhaique to Cochrane was officially completed, with additional road work done to bring the southernmost part of the road from Cochrane to Villa O'Higgins. So these three parts are Puerto Montt-Chaitén (242 kilometers) with two to three ferry crossings; Chaitén-Coyhaique (435 kilometers); and Coyhaique-Villa O'Higgins (582 kilometers) with one ferry crossing.
There are also spurs which connect the Carretera with land access routes coming in from Argentina, one that connects through Frutalefu to Esquel on the Argentine side; another at Coyhaique Alto that connects to the Argentine town of Río Mayo; and then farther south, along the southern shore of Lago General Carrera at Chile Chico, which connects with the Argentine town of Perito Moreno.
In each section of the Carretera Austral there are definite attractions, activities and points of interest that await the adventurous travelers who choose to discover this unique part of Chile. Natural attractions include various national and private parks, including the Parque Nacional Alerce Andino, Parque Nacional Hornopirén, Parque Pumalin, the Reserva Nacional Jeinimeni, Parque Nacional Laguna San Rafael and Parque Nacional Queulat.
The Coyhaique region is considered to be Chile's best place for fishing, with the Río Simpson teeming with both Rainbow and Brown trout. Other rivers are also high on the list as being desired destinations for fly fishing such as the Río Nirehuao, the Río Baker and the Río Cochrane. It is truly an angler's paradise.
One of the favored ways to tour the Carretera is by Bicycle. Many people choose to take this option to spend more time discovering the region, and although road conditions vary and there are parts that are particularly rainy, such as the area around Parque Nacional Queulat, there are camping spots with covered spaces that can provide relief when the rains are severe.
Other visitors to this region come to enjoy the opportunities for hiking, and several of the volcanoes along the route present climbs of varying difficulty, with most requiring only one or two days. Here the mountains are low enough that there is no need to worry about soroche, or altitude sickness.
---
My visit in December 2002
Before I came to visit Chile for the first time in 2002 this had been one of the places I had most wanted to discover. I'd read about it in the various guide books, and had been told by others who'd been there that I would most likely find it to be an awesome place to see. Well I can say unequivocally that they were right, and I can assure the reader that I found the trip down Chile's Carretera Austral to be one of the most spectacularly scenic places I have ever seen and give it my full and complete recommendation.
But circumstances did not allow me the opportunity to see it all. By choice I did not visit the northernmost stretch of the road, which heads south from Puerto Montt and through a succession of ferry connections, arrives at Chaitén. Rather, I chose to take the 8½-hour ferry trip straight from Puerto Montt to Chaitén, a rather adventurous cruise that traverses the Golfo de Ancud between the Island of Chiloé and the mainland.
I had made reservations before leaving Puerto Montt for a room in a hotel in Chaitén, and after overnighting there, I set out in my rented 4x4 pickup truck to drive down the Carretera. The road was unpaved but south from Chaitén it was well enough constructed with a solid gravel roadbed, so with there were no problems with mud on the rainy day of my departure. But it is not a road built with speed in mind. This did not present a problem as I was not in a hurry anyway, and had not planned to try to rack up a huge number of kilometers but rather had planned to make it a leisurely drive so that I could take in the sights along the way. When I got to the village of Villa Santa Lucia, I spotted a rather desperate-looking fellow trying to hitch-hike. I recognized him as being one of the passengers on the previous day's ferry crossing, so I stopped and gave him a lift to his destination, which was the village of La Junta. For my kindness in picking him up, he gave me a wool-knit hat, which would prove to be a valuable thing to have that very night when I set up my camp in the Parque Nacional Queulat. I spent two nights in the campground at Queulat, and since this was Christmas Eve and Christmas Day I had the whole campground to myself. My plan had been to set up camp and then to hike up to the glacier, Ventisquero Colgante, but the rainy conditions would not allow me to do so until the day of my departure on the 26th of December.
On that day I drove over some high territory, traversing some of the most beautiful country that I have ever seen. And it seemed that as that day progressed, the rains dissipated, the skies began to open up, and the most brilliant sunshine broke out to further enhance the beauty of my surroundings as I got closer to Coyhaique. I reached a good paved section of the Carretera when I crossed the bridge over the Río Manihuales, which took me smoothly into Coyhaique.
Now, this largest city in the region is laid out in a rather perplexing pentagonal layout which emanates from the central plaza. For the uninitiated visitor such as myself, I found it almost like trying to navigate a maze in my attempts to locate a decent supermercado, but I was eventually successful, managing to stock up on supplies and get a full tank of gas before setting out to discover the more southern section of the road.
This brought me into the magnificent country around Cerro Castillo, the main peak in a stunning massif that rivals the Grand Tetons for rugged beauty. It was a good place to stop for a short wile to take it all in. But I had made up my mind that I wanted to proceed, because I wanted to spend time in along the south shore of Lago General Carrera, which incidentally is the largest lake in Chile. I made it as far as Lago Tranquilo, which is on the northwest shore of the lake, before night descended and the weather deteriorated. I managed to find a rudimentary hotel and paid for a room for that night.
The next morning I was shocked to find that the only gas station in Río Tranquilo was out of gas and would likely not be receiving any more for several days. So I found myself in a dilemma. My intent had been to travel the south shore of the lake, get to Chile Chico and then go camp south of there in the mountains for a couple of nights before crossing into Argentina to continue on my way ever southward. But now I recognized that I would not be able to get to Chile Chico unless I wanted to sit things out for days here in Río Tranquilo, a sleepy village of only some 400 souls, or possibly I might be able to drive back north some 25 kilometers to Puerto Murta, (also known as Bahia Murta) at the north end of the upper arm of the lake. I wouldn't have much gas to get much further than that.
So I opted to drive up to Puerto Murta, where I happened to meet a rather eclectic young landscape architect who had been charged with the task of transforming and remodeling the town's plaza. I had been dumbfounded by the lack of any gas station in town even though my map had indicated that there was such a place in Murta. Anyway it turned out that there was gas to be had, but it had to be purchased from a drum at the local co-op mechanical supply store. It was expensive, but I made sure that I purchased enough to get me back to Coyhaique. Then my architect friend invited me to stick around, as that day Huasos (Chilean cowboys) from all over the province were gathering there for a Rodeo Chileno, or Media Luna, and I decided that this would indeed be worth staying for, at least overnight. That afternoon we went over to the rodeo grounds where the Huasos were already parking their wagons and had started making campfires for their asados and drinking mate. We hung out with some friendly Huasos who had come down from Coyhaique, enjoying telling stories, eating barbecue beef burgers and drinking wine and mate until my friend said that we needed to go back to his place where we teamed up with his whole family and headed off to a local party, which ran well into the night. The next morning it was off to see the Huasos in the rodeo, which was quite a treat to see. But by lunchtime, I felt I needed to bid farewell to my friend and continue on my journey, now by necessity heading back northward to Coyhaique.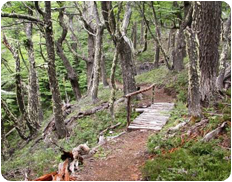 After I left there I drove back to Cerro Castillo, stopping again on a brilliant sunny day to take in the magnificent vista. I also took the turn that led me to discover the fascinating Monumento Nacional Manos de Cerro Castillo, which is an incredible archaeological site that features masses of paintings of hands on the rock face of a cliff which whose origins date back some 10,000 years and which were still being augmented until the seventeenth century. It was worth the visit.
I didn't drive all the way back to Coyhaique that evening, however, choosing instead to set up camp overnight at a very nicely-kept campground at Laguna Chiguay. It turned out to be a good choice for some real relaxation before I continued with my drive into Coyhaique and my eventual crossing into Argentina at Coyhaique Alto.
---
Practical Information
I've already mentioned the various ways to get into this region, either by ferry of overland from Argentina. You can also fly in - Coyhaique has regular flights that come in from Puerto Montt and Santiago, and automobiles or bicycles can be rented there. Regardless of how you get there though, you will need to know that this is remote country, and that there are vast stretches of territory where there are no services available.
It is wise to carry a spare gas can (which I had with me on my excursion but had foolishly forgotten to fill) but you also need to be aware that neither Chile of Argentina will allow you to carry gasoline across the border, so make sure that the can is empty when you go through customs.
Although sometimes the weather can be perfect, plan on experiencing some rain and bring appropriate gear for whatever activities you are planning. If you plan your trip the right way, you are certain to be rewarded by discovering one of the most beautiful places on earth.